The main protagonist, Matúš, is a prodigiously talented 30-year-old musician. He studied violoncello at a prestigious arts academy in Berlin but never finished – he quit school when his adoptive mother had fallen sick. Today, he and his brother, Dávid, who suffers from achondroplasia, live on the margins of society, one for the other. Their bond makes their existence slightly simpler and more pleasant. They are both trying to survive in the world of 'the big people' – each in his own way, pursuing his own ambitions. They play a double bass together in the streets of Vienna, where they commute by train. The charming and, in a way, very personal performance, where Dávid draws the bow and Matúš presses the chords, entertains the passers-by. One such passer-by is Lenka, a young caregiver in a nursing home for the aged and abandoned, who once snapped a picture of the brothers in the street and later runs into them on the train. Matúš is depressed by the insignificance of being a street musician. He yearns to become a renowned artist, to win the respect and admiration of the crowds – to find meaning in his life and ascend to the top. He finds busking unfulfilling, viewing it as nothing more than a necessary means of subsistence and often feeling embarrassed for doing it. The sole thing that gives him happiness is his cello. At night, he plays, composing his own music. He feels incomplete and suffers because of it. He needs to prove to himself that he is capable of more. Maybe that's why he regularly meets with Simona, a girl with whom he plays a strange game of pretend. Matúš and Simona do not only enjoy each other's company physically – they are using each other as a projection screen for the ideal version of themselves. Their relationship, however, is vacuous – an imitation of life reduced to the flattering but ultimately illusory screen of the mobile phone. Emptiness, the desire for admiration, and the loss of their true selves makes Matúš and Simona slaves to pretence. In Simona's eyes, Matúš is a successful player with the philharmonic. In Matúš's eyes, the girl is an avatar of the perfect life she presents on Instagram. Although Matúš and Dávid need each other, and although they are both growing close with Lenka, their paths are slowly drifting in opposite directions. Matúš's yearning for fulfilment and fame comes to the fore when he runs into an old friend from school, the successful violinist Albert, who ushers him into the 'big' world. While Matúš focuses on himself and his career, Lenka turns Dávid's life upside down. They become friends, and Dávid finds the meaning of his life – he starts working in the nursing home as a cook and an orderly. He has the ability to bring a smile to the wrinkly faces of the home's residents, which makes both him and them happy. He invents new, healthy meals and specialties, and despite the fact that work in the home is hard and exhausting, Dávid imbues the establishment with brightness and joy. Matúš is gradually confronting his outwardly lustrous life as a member of Albert's string quartet with the simple life that Dávid leads. Their two disparate worlds collide. Matúš is tortured by the high life, which is full of artifice and insincerity. The big world, where everyone only cares for themselves, does not allow him to fulfil his desires. Seeing how rich Dávid's life is despite its simplicity, he decides to leave Albert's quartet. He starts teaching at a music school, becoming the tutor to a young student. Their purity of their relationship opens his door to true happiness – the ability to share what he has. Life leads him back to Lenka and Dávid, but then, tragedy strikes. Dávid dies in an accident. Matúš grows even closer with Lenka, who reminds him of the past and his memories of Dávid. After his brother's passing, Matúš realises the transience of life and the true value of his being. He recognises the gift and beauty of Dávid's outlook – he taught people to love life. Matúš eventually understands that happiness and fulfilment are a state of mind inspired by the little things, and that life is not merely about us – it's also about the people who help us to see who we really are.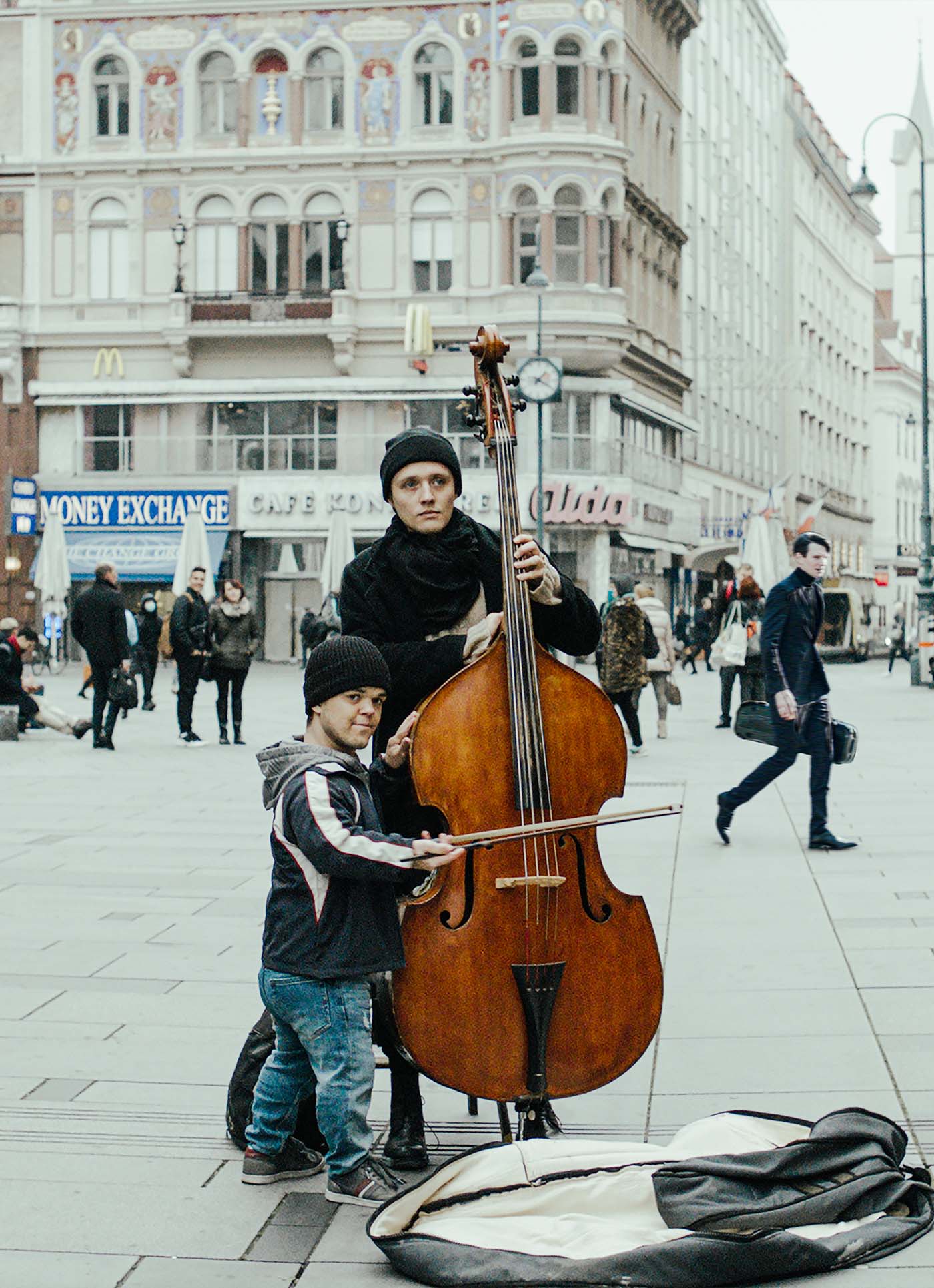 APPLAUSE is a film that will be exploring the "smallness" of us all. It discusses how we all need to feel complete and are longing for happiness, how we define ourselves as unique and what in all that we understand as our victory.
Though Matúš is a talented musician, he is also an outsider: he feels like he doesn't belong in the world he lives in. He sees his fate as an unrighteousness and as something that is keeping him from living a full and balanced life. Instead of accepting himself, with all his mistakes, he's trying to live up to other people. The goals he sets for himself are just copies of other people's goals, and eventually, he ends up alone and unhappy.
The theme of our film is the process of accepting oneself – a process that can be tough and complicated. APPLAUSE is about defining our place in this world, and appreciating all the good and beautiful we have around us. We would like to tell this story in a light manner, with levity. We believe complicated and serious themes can be presented with humour.
As in all my films, my primary motivation is to get to know a new, different community of people, explore the inner world, desires and hopes. To maintain the film as authentic and true as possible, we are developing the script based on real-life experiences of people from this community. However, the final version of the script will be tailor-made to the cast protagonists (a combination of non-professional actors and professional actors), therefore the scriptwriting, research and casting will be running in parallel.
The film should be shot in a natural, authentic visual style, its character should be based in the observed real world without romantization. We would like to build on the aestethics of my previous films, where the main character is an "ordinary person".
We would also like to tell a dynamic, captivating story, making the audience not only enjoy, but also think about what they've seen. A story, where the thin line between sadness and laughter will offer something new to the viewer.
Watching the life path of a man in flight. A thirty-year-old man and his future, which he has in his own hands. An entity at the start of real life, full of ideals, physical energy, motivation, talent and faith in one's own abilities, but without empire, strong social relationships and a clear goal.
Music, musical expression is an unquestionable social phenomenon. Harmony or harmony, the trigger of human emotions, becomes an extraordinary tool for telling a story in a film. A sibling relationship, a bond between two men from an early age and forever. Their contradictions, differences, perhaps even a duel and yet an indescribable special bond.
Three levels with extensive potential for the audiovisual form of the story. It is the director Juraj Lehotský who is the author who can make full use of these levels and thus create an exceptional film work. His strong point is the sensitive depiction of the emotional world of film characters, but they have something in them that is in each of us. These are arguments confirming the belief that a spectator-attractive and culturally high-value film will be created.
The film works with music as part of the protagonist's emotional life. We believe that even a serious and complex topic can be presented with humor and in conjunction with classical music bring a powerful experience to the viewer.
The story takes place in Bratislava and Vienna, tells a universal story of desire and knowledge and works untraditionally with classical music. All these attributes represent a great co-production and distribution potential that we want to use.
From the production point of view, this is a demanding film, which has the potential for success not only on the art scene, but also the viewer of the multiplex can be captivated by the humor and insight with which the theme will be processed. And the versatility of the theme offers hope of application in international distribution, as well as Lehotsky's previous films, which have been placed and awarded in the programs of top and most important and regional world festivals (Cannes IFF, Toronto IFF, Karlovy Vary IFF, Cairo IFF).