Matúš is a talented musician who abandoned his promising career after the death of his adoptive mother. While his stepbrother, Dávid, takes whatever life gives him, Matúš feels frustrated by his unfulfilled ambitions. When he unexpectedly runs into an old schoolmate, Albert, it suddenly appears that Matúš's life is about to take a long-awaited turn for the better. But unlike Dávid, who finds contentment working at a seniors' home, Matúš struggles to attain happiness even despite the success he enjoys in his new, "better" world. He gradually realises that happiness is a state of mind, that it's hidden in the little things, and that a life well lived is also about whom one lives for.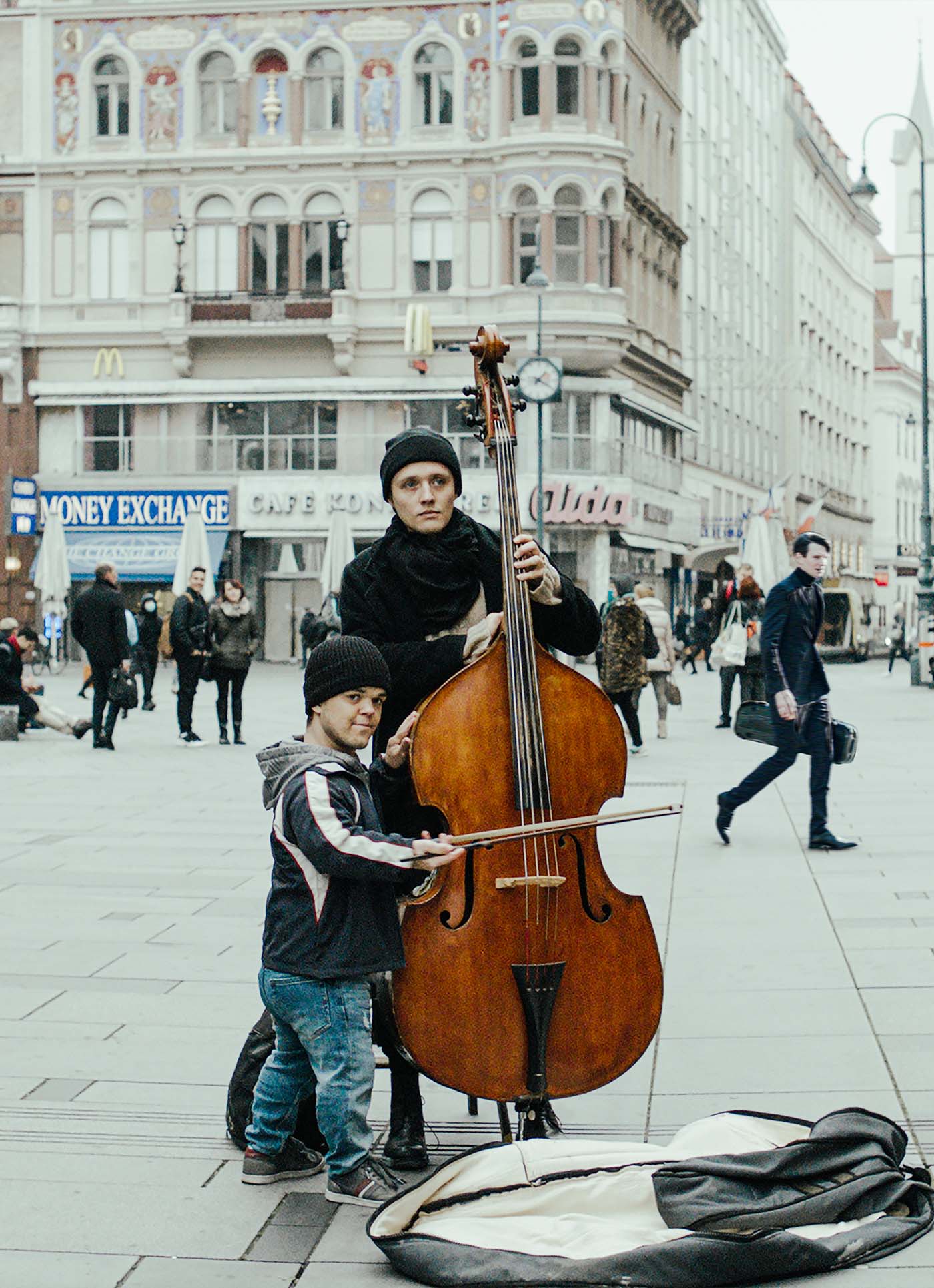 The film Plastic Symphony is about the path to self-acceptance – a path that is often difficult and painful. It is about finding one's place in the world and learning to appreciate the goodness and beauty that surrounds us.
 DoP Timotej Križka and I wanted to craft a pure, visually consistent story told through long, uninterrupted shots. Every scene and situation is shot in a single take, resulting in an appealing aesthetic that draws us into the narrative. Thanks to a thoughtful mise-en-scene, each scene contains all the necessary cinematic ingredients – closeups as well as wide shots; moments of dynamism as well as moments of calm. This, I believe, produces an authenticity that engages the audience with the film and allows them to truly experience the story. We wanted to transport the viewer into an authentic time and space and enjoy the film from an inner, undisturbed perspective.
 The story of the film revolves around the human desire to reach the pinnacle of fame. Vienna becomes the backdrop to the main character's path towards self-discovery, as well as an ideal environment for depicting his dreams and desires, triumphs and tribulations. We filmed in spectacular locations, such as the Liechtenstein City Palace, the magical Konzerthaus, or the bell tower of the majestic St Stephen's Cathedral. Vienna represented the perfect setting for the story, becoming a metaphor of beauty, success, and the promise of happiness. It also lent an international dimension to the film, which thus features dialogues in Slovak, German, French, and English.
 We came across Bartosz Bielenia while on a train ride, browsing the website of a casting agency. I was immediately charmed by his picture – a young man with distinctly feminine features. I was captivated by his strange allure, the hidden desire in his facial expression, his tenderness and vulnerability. Working together was initially quite difficult – the decision to cast a Polish actor as the lead in a Slovak film was audacious, to say the least. Nevertheless, Bartosz's presence continued to fascinate me and draw me in. I realised that he was exceptional.
 When we began rehearsing in Slovak, I realised that I actually enjoyed Bartosz's accent and that it would make his character even more unique. Because the protagonist runs into a former classmate from Berlin, it was also necessary to employ German in the film, meaning that this role was certainly one of Bartosz's more challenging ones. As if all that wasn't enough, he also had to learn to play the violoncello.
Our German actor, Sabin Tambrea, is a consummate professional – an actor as well as an outstanding musician-violinist. This combination of skills was necessary for the role. Sabin grew up in a musical family and spent time in the world of classical music, gaining experience that he could seamlessly translate into the film. Sabin portrays an ambitious musician at the peak of his career, but his character is somewhat ambivalent, exuding an unspoken uneasiness with his fate. As he himself has confessed, it was challenging to imbue the ostensibly black-and-white, negative character with a much-needed shade of grey – with a certain humanity and hope.
Finding a young actor with achondroplasia was not easy. We were looking for an ordinary, agreeable man who displayed a love of life despite his condition. After a long search, we found the talented Vojtěch Zdražil. His character required a certain inner strength, insofar as his distinctive feature is his willingness to put others' needs before his own. Vojtěch surprised both Bartosz and me with his unbelievably believable acting. He radiated a certain lightness of being and was very civil in his performance, drawing on his own life experiences – he did not play someone else, and that was his greatest forte.